Excursion 


Hoge Veluwe National Park and Kröller-Müller Museum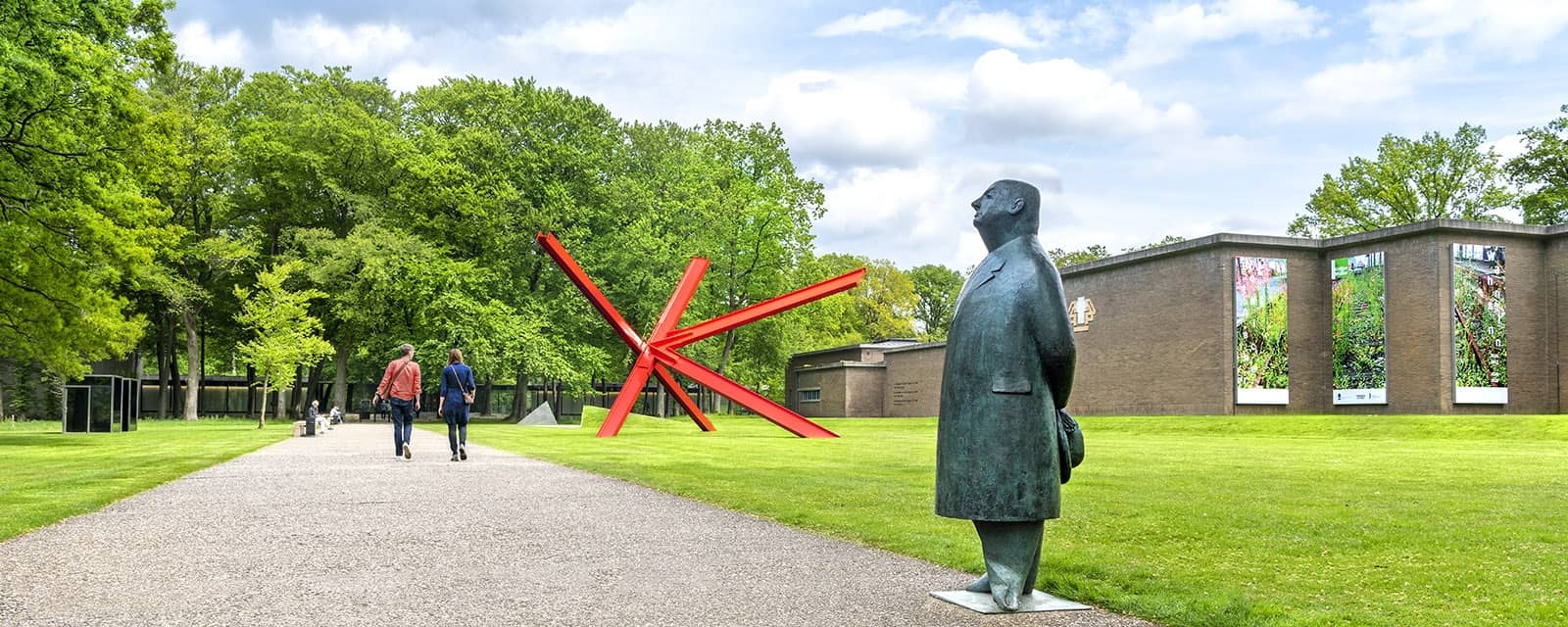 At the beginning of the last century, in 1909, the wealthy couple Kröller-Müller bought a large piece of land in the Veluwe. The family, who lived in the west of the country, spent their holidays here. This former estate and private hunting ground is the current 'National Park De Hoge Veluwe'.

The park
The park covers 5,500 hectares of woodland, heath, grasslands and shifting sands, and is the natural habitat for deer, moeflon and wild boar. On foot or on one of the free White Bicycles, you are free to roam around in nature. The free White Bicycles (1,800 in total) are stationed at the three entrances to the park, at the visitors' centre and at the museum.
In the visitors' centre you can learn more about the nature, landscape, animals, culture and history of The Hoge Veluwe. Nature films are shown in the auditorium, and in the Museonder you get a surprising look at everything that lives and has lived under the earth surface!

Kröller-Müller Museum 
At the Kröller-Müller Museum, you will find the world's finest Vincent van Gogh collection and enjoy masterpieces by modern masters such as Claude Monet, Georges Seurat, Pablo Picasso and Piet Mondriaan. The museum is  a treasure trove of De Stijl and futurism, and will surprise you with presentations of contemporary artists. Jachthuis Sint Hubertus is the former country house of Mr and Mrs Kröller-Müller. This 'total artwork' by architect H.P. Berlage is one of the Netherlands' most important monuments. 
In the sculpture garden, you will stroll past works by Barbara Hepworth, Jean Dubuffet, Marta Pan and others.
Programme
12.30 pm                        Departure from WICC Wageningen
1.30 pm                          Arrival Kröller-Müller Museum 
1.45 pm – 2.45 pm          Guided Tour English  
2.45 pm – 5 pm               Visit Hoge Veluwe National Park on your own 
5.15 pm                          Departure to Wageningen
6.15                                Arrival WICC Wageningen

Costs
This excursion costs €45. This includes bus transport, entrance ticket Park and Museum and guided tour through the Museum.
Maximum 60 people.

More information?
Click here to book the excursion of your choice. 
IPPS2022 - Excursions

Registration website for IPPS2022 - Excursions
IPPS2022 - Excursionsregister.event@wur.nl
IPPS2022 - Excursionsregister.event@wur.nlhttps://event.wur.nl/ipps2022_excursions/subscribe
2022-09-30
2022-09-30
OfflineEventAttendanceMode
EventScheduled
IPPS2022 - ExcursionsIPPS2022 - Excursions0.00EUROnlineOnly2019-01-01T00:00:00Z
Wageningen University & ResearchWageningen University & ResearchDroevendaalsesteeg 4 6708 PB Wageningen Netherlands