Program
 
The ASG festival means socialising, the new narrative, our own exhibition, workshops, music and food and drinks.
The programme runs from 13:00 to 19:00 pm and is full of fun and engaging activities. Especially for this day, a festival ground has been set up behind Zodiac with tents, food trucks and music. There is something to do all day, which you can mix up with a drink and snack at the food trucks. and of course you can catch up with your colleagues at the food square.
 
When you arrive, you can sign up for the workshop of your choice, check the timetable in advance! Some workshops have a maximum number of participants and most workshops are held two or three times. 
We look forward to seeing you at the first ASG Festvial, see you then!
Global schedule
12:30
walk-in and register for the workshops
Zodiac, hall
13:00
Opening Festival by Ernst van den Ende
Amphitheatre
13:20
Opening ASG outdoor exposition: Future of Animals
Amphitheatre
13:30
Walking to the workshops of your choice
 
13:45

start workshops

>> Check the timeline below or download it: ASG-festivalschema-18092023.pdf

several rooms 

and the

Festival grounds

17:00-19:00

Food & Drinks at the Fabulous Food Trucks
Festival grounds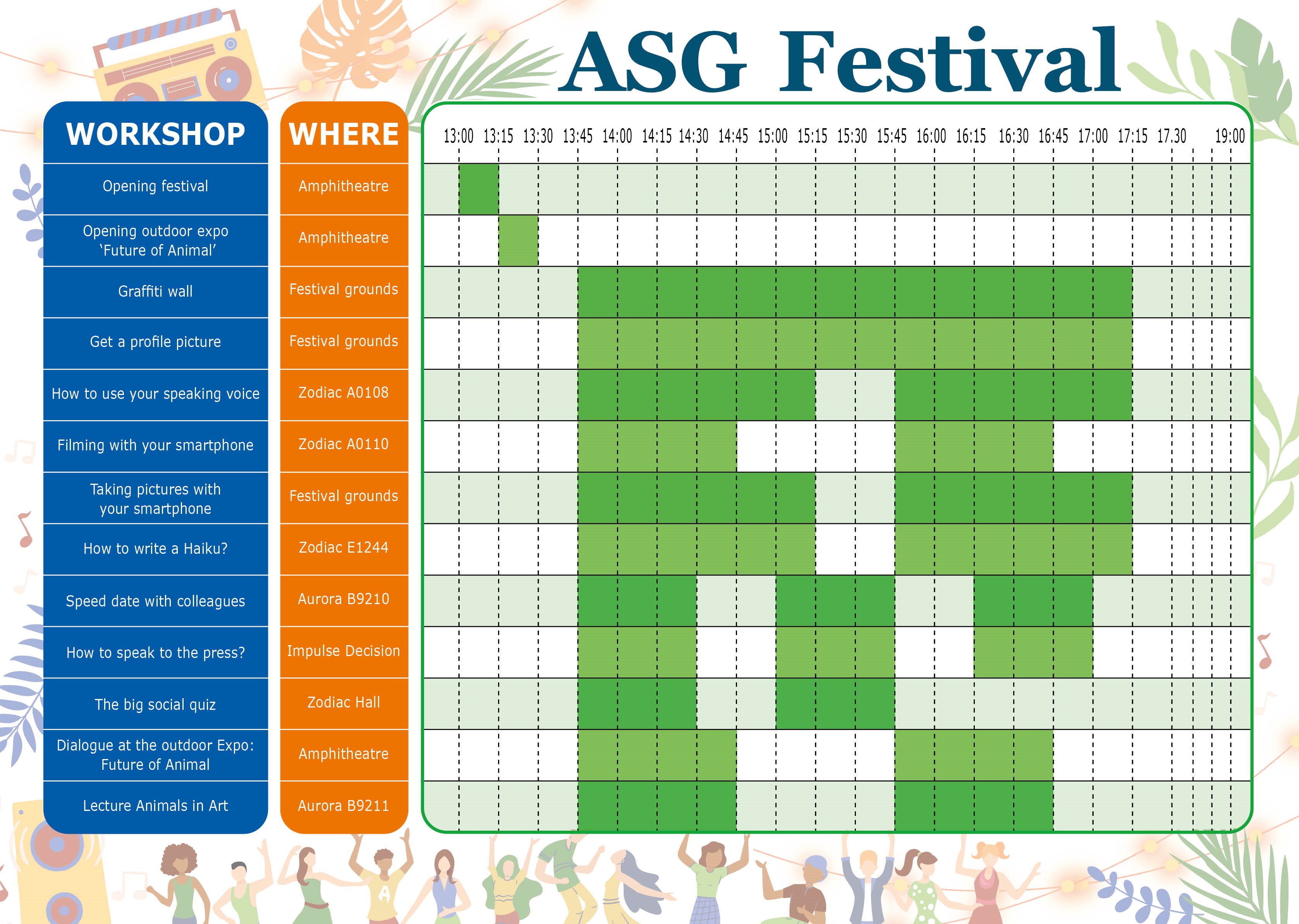 ASG Festival 2023

Registration website for ASG Festival 2023
ASG Festival 2023janke.boerman@wur.nl
ASG Festival 2023janke.boerman@wur.nlhttps://event.wur.nl/asg-festival/subscribe
2023-10-05
2023-10-05
OfflineEventAttendanceMode
EventScheduled
ASG Festival 2023ASG Festival 20230.00EUROnlineOnly2019-01-01T00:00:00Z
Wageningen University & ResearchWageningen University & ResearchDroevendaalsesteeg 4 6708 PB Wageningen Netherlands